Each autumn we have our School Prize Giving. A guest preacher is invited to preach and present the certificates, cups and shields to the pupils at the end of the service. The pupils also take part in the service, singing and performing a recorder recital.
On Wednesday 26th October 2011 parents, pupils, teachers and friends gathered for the annual prize giving. Awards were presented for swimming, achievements on Sports Day, Scripture recitation, Poetry, class positions gained, Science, attendance, spellings, OLA, ITQ, GCSE and A Level exams.
The top swimmer was Jonathan Orr achieving 800 metres and the gold challenge award. The Sports Day awards all went to boys: David Hanna, Andrew Cummings and Michael Johnston.
Nine pupils recited their verses all year and at exam time without mistake and took home  Scripture shields; congratulations to Lydia McKeown, Bethany Curran, Amy Cummings, Philip Bonar, Heather and Sharon Clarke, David, Kerith and Elisabeth McClung.
Anna Houston claimed the Poetry Cup for her poem 'The Sea'. We would like to thank Mrs Pamela Foster for judging the entries for the Poetry cup. Lydia McKeown took top place in Upper Primary and also the Science cup. This cup is based on Science tests throughout the year and on performance at the Science Fair.
Ten pupils received certificates for full attendance. Special commendation goes to Andrew and Bethany Cummings for 5 years full attendance to date. All pupils in Year 8 to 11 received their OLA certificates for their French exams with CCEA. All pupils in Year 9 to 11 gained ITQ certificates for their OCR computer exams.
Jerusha Greer was the top GCSE student with 6 A*s and 3 A grades, so she took the Cranston Examination Shield home. Further examination certificates were given to Bethany Cummings and Kerith McClung (GCSE) and Reuben Daly, Amy Cummings, Bethany Curran and Elisabeth McClung (GCE).
We rejoice in the Lord's goodness to us as a band of His people seeking to shelter our children from the erroneous and godless teaching and uncleanness of this present evil world. The Guest Preacher this year was Dr Stephen Pollock, minister in Kilskeery FPC and Administrator of their Christian School.
School pupils taking part in the service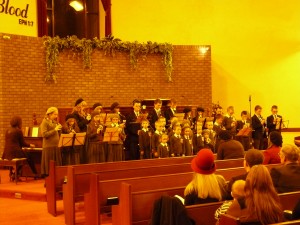 Prize winners with Dr Pollock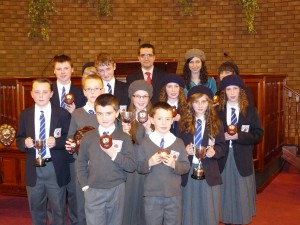 Miss Jerusha Greer receiving the Cranston Examination Shield for best GCSE student