Each autumn we have our School Prize Giving. A guest preacher is invited to preach and present the certificates, cups and shields to the pupils at the end of the service. The pupils also take part in the service, singing and performing a recorder recital.
2009
Newtownabbey Independent Christian School held its annual prize giving on Wednesday, 28th October when Rev James Porter was the guest preacher.
Certificates were presented to pupils who gained distance and challenge awards in swimming, to pupils gaining top position in each class, and those passing CLAIT and French GOML exams. Prizes were given to winners in each class at Sports Day: David McClung, David Orr, Kerith McClung and Philip Curran.  Top Science Student in 2008/9 was Sharon Clarke having also come top at the Science Fair.  Awards were given to those who recited their Bible verses all year without a mistake – Jerusha Greer, Bethany Curran and Elisabeth McClung.
Each year we run a poetry competition and Philip Curran and Amy Cameron shared the Emily Agnew Poetry Cup for their efforts. The Spelling Shield is given to the top speller in Primary School and this year it was won by David McClung. Top GCSE student was Elisabeth McClung for gaining 6 A*s, 3 As and a B.  She also took home the Language cup for gaining 95% in her GCSE French.
Congrat-ulations to all the girls who took GCSE exams and who gained 100% in 5 GCSEs A*-C or more, but especially to Elisabeth who took her exams a year early.
Report by School Principal Mrs L. McClung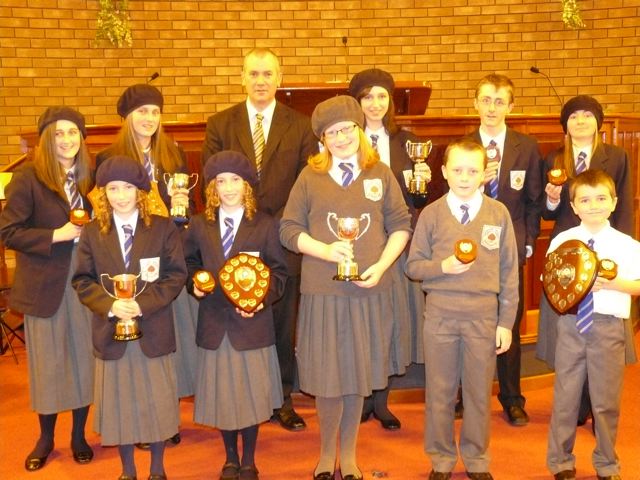 Elisabeth McClung won the Cranston Examination Shield for best GCSE student